advanced USE IN ORTHODONTICS AND DENTOFACIAL ORTHOPEDICS
USE OF MINI-IMPLANTS for orthodontic and orthopedic corrections
Day 1 & 2
I. GENERAL CONSIDERATIONS WITH THE USE OF MINI-IMPLANTS (MI)
II. CLINICAL AND BIOMECHANICAL APPLICATIONS
III. CORRECTION OF TRANSVERSAL PROBLEMS
IV. CORRECTION OF SAGGITAL PROBLEMS
Day 3 & 4
Day 5
Real patient (optional)
PLACING MINI-IMPLANTS AND AUXILIARY ELEMENTS
Placement of different types and sizes of MI in the different anatomical areas:

on biomodels with real consistency of soft and hard tissues.
on mandible and maxilla of lamb
on mandible and maxilla of pig

Placement of auxiliary elements on the different MI heads.
ANALOGUE / DIGITAL DESIGN AND INSTALLATION OF MAXILLARY SKELETAL EXPANDER (MSE)
Design of the Maxillary Skeletal Expander (MSE) on a biomodel with a real consistency of soft and hard tissues
MAXILLARY SKELETAL EXPANDER (MSE) INSTALLATION
MSE Placement
Placement of the MSE mini-implants with wrench and minihand-driver.
MSE Removal
ANATOMICAL STUDY ON BIOMODELS / REAL SKULL AND PLACEMENT OF MINI PLATES
Placement of mini-implants and mini plates of different brands for assessment by the student
Study on the real skull of the maxillary bones and circummaxillary structures after expansion and
maxillary protraction on articulable biomodel.
INTERACTION WITH THE ONLINE PLATFORM TO REQUEST DIGITAL DESIGNS
Interaction with the digital platform to learn how to request MSE Digital, Guidelines for Corticopunctions and Digital Guides for Mini-Implant Placement.
TREATMENT TO PATIENTS IN CLINIC OF DR. RAMÓN MOMPELL FOR PLACING MINI
IMPLANTS / MSE / MINI-PLATES
Direct treatment by the student to Dr. Ramón Mompell's patients or their own patients for the placement of MSE / Mini-Implants / Mini-Plates.
– Program Director, Post-Doctoral Orthodontic Program, Section Orthodontics, UCLA
– Director, International Affairs, UCLA School of Dentistry, Section of Orthodontics.
– Program Director, Combined Pediatric/Orthodontic Programs, UCLA School of Dentistry, 2004-2010
– Program Director for Southern Region, Pacific Coast Society of Orthodontists (PCSO), 2005-2007
– Reviewer, the Angle Orthodontist, since 2012
– Reviewer, Dental Press Journal of Orthodontics, since 2012
– Harvard School of Dental Medici- ne, D.M.D., 1989
– University of California, Irvine, BS in Mathematics, 1984
– Clinical Assistant Professor, Dept. of Orthodontics, Dental College Hospital, Seoul National University since 2001
– Visiting faculty, Dept. of Ortho- dontics, UCLA, Los Angeles, USA since 2003
– Clinical Professor, Dept of Ortho- dontics, Samsung Hospital since 1997
– President, Korean Society of Orthodontics (KSO) in 2007-2008
– Visiting faculty, Division of Ortho- dontics, Dept. of Growth and Deve- lopment, Univ. of California, San Francisco, USA
– Chairman and Director, Dept. of Orthodontics, Chong-A Hospital, Seoul 1991-1994
– 3 National Licenses of Dentist – KOREA, JAPAN & U.S.A.(Californa)
– Active member of the research team in the Craniofacial Growth and Development Division. Dep.
Orthodontics. University of California at Los Angeles (UCLA)
– Professor at the University of Ajou, Seoul, Korea.
– Professor at the University of Coimbra, Portugal.
– Master's Degree in Orthodontics and Craniofacial Orthopedics. Jiménez Díaz Foundation
Hospital. Madrid.
– Clinical residence, Department of Orthodontics, University of Sao Paulo (USP), Brazil.
– Invisalign Diamond II
DR. CHEOL-HO PAIK & DR. RAMÓN MOMPELL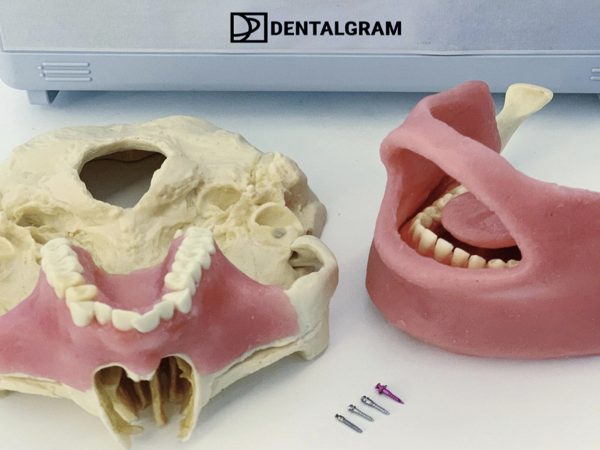 BIOMODEL | DESIGNED BY DR. MOMPELL
For the realization of the Hands-On will use the biomodel designed by Dr. Mompell exclusively for this course. Thanks to this biomodel you can:
1. Analyze the real consistency of hard and soft tissues.
2. Study the different anatomical structures.
3. Place the MSE and disarticulate the model.
4. Place different micro-screws and mini-plates.
5. The model is totally radiographic to evaluate tooth structures after MI placement.
FREQUENTLY ASKED QUESTIONS MINI-IMPLANT COURSE
The three speakers are professors and regular collaborators of the University so they share a
similar work philosophy with both fixed appliances and aligners.
The combination of theory with hands-on in each section allows the participant to assimilate the
concepts and put them into practice.
If after the course you feel that you still need some help in your first cases, Dr. Mompell gives the
opportunity to assist you clinically in your first cases. The main objective of the course is that the
participant knows the biomechanics to use with the mini-implants and help him to include it in his
clinic in a safe and reliable way.
To enroll in the advanced course of Mini Implants, you must fill out the form with your data in the
Registration area and the following process will begin.
Complete the Registration form
You will receive an email with the confirmation of your registration
Proceed to the payment in the DENTALGRAM FORMACIÓN:
IBAN account number: ES02 2038 1109 3860 0080 6095
SWIFT / BIC: CAHMESMMXXX
BANCO: BANKIA
Send proof of payment to facturacion@formaciondentalgram.com
Once the registration process is completed, you will obtain all the data to make the first payment.
Payment by Bank Transfer.
– Option 1: Reservation of your place. (1990 €) / Second payment (1500 €) / Third Payment
(1500 €)
– Option 2: Reservation of your place. (1990 €) / Second payment (1500 €) / Third Payment
(2500 €)
Clinical observation consists of receiving clinical help from Dr. Mompell in the installation of miniimplants, placement of the MARPE (MSE) or preparation of Invisalign's ClinCheck for later integration with the use of mini-implants. The patient is provided by the student or by Dr. Mompell.
The procedure will be carried out at Dr. Mompell's clinic in Madrid. The date will be agreed between Dr. Mompell and the student.
"Un curso muy ameno e interesante, con un profesorado de muy alto nivel, una organización de 10 e increible experiencia la vivida en UCLA . Muy recomendable!"
"Un curso súper profesional y bien organizado. Ramón Domínguez-Mompell nos ha traído la UCLA a España y nos ha llevado a la UCLA, una gran experiencia personal y profesional."
"El curso completo de mini-implantes me ha permitido incorporar los microtornillos de forma definitiva en mi clínica. Ahora me siento capaz y con confianza de tratar las maloclusiones más complicadas gracias a las prácticas realizadas durante el curso."
"I have learned many different aspects of using mini implant in this course and I highly recommend the course to the future doctor who are interested using mini implant as anchorage and MARPE in their clinical practice."
"Un curso realmente interesante sobretodo por tener la oportunidad de trabajar junto a profesores tan profesionales y tener la oportunidad de ver casos de mini-implantes" en University of California, Los Angeles (UCLA)."
"Thank you Dr. Ramon for the excellent organization of the course. A week full of information in the circle of like-minded people, the exchange of experience and new information. An excellent presentation of theoretical material. Special thanks for the practical part on the "super" tipodonts!"