International Invisalign Course
International
Invisalign Course
25 PROTOCOLS for therapeutic success and clinical management
Fundamental protocols
Optimized protocols
Advanced protocols
Master protocols
Fundamental protocols
GENERAL CONSIDERATIONS WHEN USING INVISALIGN
Introduction to the International Aligners Course (IAC): INVISALIGN technique.
The meeting point between different ideas and emerging technology. ITero / 3shape intraoral
scanner / Carestream, CBCT, 3D facial scanner, 3D printing, etc.
Transparent or plastic orthodontics: differences between the INVISALIGN system, other aligners
brands and the homemade (3D printed) orthodontic aligners designed by different softwares
Basic and advanced nomenclature in plastic orthodontics: smartforces (conventional
attachments, optimized attachments, powers ridges, precision cuts, pressure points, bite ramps);
IPR, pontics, additional aligners, passive aligners, refinement, additional aligners, overcorrection,
virtual jump, compliance indicators, eruption tabs and eruption compensators.
Invisalign website (Invisalign Doctor site -ID-): step by step to master the use and the advantage
of each of its functions: case submission and my clinical preferences.

PROTOCOLS PRE-ESTABLISHED BY ALIGN TECH: Invisalign G3, G4, G5, G6 and G7
Optimized protocols
Advanced protocols
Master protocols
PRACTICAL WORKSHOP 1: Digital management of STL files. DICOM.
Creation and export of STL files. AND DICOM.
Import files in platforms for retainers manufacture
Use of 3D printers and nitrogen curing machine
PRACTICAL WORKSHOP 2: How to do a Clin-Check exclusively with dental movement using 3D controls
A full Class I/II/III CC will be performed using 3D controls.
2 Steps CC Technique will be practiced.
The use of Clincheck Live Update and the use of CBCT will be optimized
PRACTICAL WORKSHOP 3: How to  do a Clin-Check including Dental and skeletal movements using 3D controls
A complete Class II CC will be performed by using of mandibular advancement with precision wings and class II elastics.
A complete Class III CC will be performed by maxillary advancement using the 3D controls of the Clin-Check Pro. CC technique in two steps, differentiating the surgical jump from the virtual jump.
PRACTICAL WORKSHOP 4: Invisalign & DSD            
Communication with DSD will be made for the correct planning
Planning will be done with DSD by using keynote and overlay in Clincheck
PRACTICAL WORKSHOP 5: interproximal reduction (IPR)
Different types of IPR will be performed on specially prepared biomodels with different types of crowding in order to master the IPR technique.
Different types of manual and rotary IPR systems will be tested
PRACTICAL WORKSHOP 6: Manual adjustment of aligners             
It will be possible to cut, adjust and add pressure buttons to the aligners to know the different options that can be made
Advanced use for extrusion, intrusion, adjustments, rotations, in-mass moves and precision cuts for both buttons and elastics
PRACTICAL WORKSHOP 7: Direct Printed aligners
Design and digital plan of the aligner sequence to create export files
Design of the aligners/retainers for later printing
Handling and use of aligner 3D printing platforms
The washing, curing and polishing process of the direct printed aligners will be shown.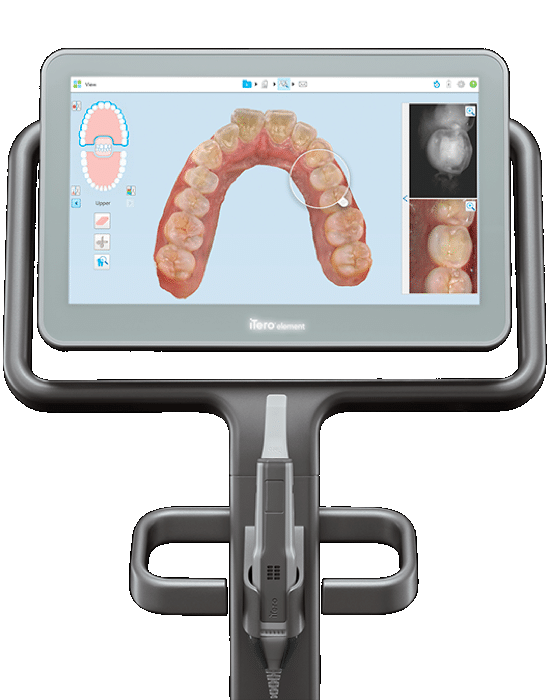 iTero by Invisalign | Align Tech
To become a Diamond you will need iTero as your main partner. In our course we will offer you the best options for you to get one, because we firmly believe in:
1.Advantages of its use and inconvenience of using impressions
2. Key tool in presentation of treatment and sale
3.Reduction of times in cases and improvement in the quality of treatment
4. Patient satisfaction
5. Reduced amortization time due to guaranteed success
FREQUENTLY ASKED QUESTIONS | INVISALIGN COURSE
"Un curso muy ameno e interesante, con un profesorado de muy alto nivel, una organización de 10 e increible experiencia la vivida en UCLA . Muy recomendable!"
"Un curso súper profesional y bien organizado. Ramón Domínguez-Mompell nos ha traído la UCLA a España y nos ha llevado a la UCLA, una gran experiencia personal y profesional."
"El curso completo de mini-implantes me ha permitido incorporar los microtornillos de forma definitiva en mi clínica. Ahora me siento capaz y con confianza de tratar las maloclusiones más complicadas gracias a las prácticas realizadas durante el curso."
"I have learned many different aspects of using mini implant in this course and I highly recommend the course to the future doctor who are interested using mini implant as anchorage and MARPE in their clinical practice."
"Un curso realmente interesante sobretodo por tener la oportunidad de trabajar junto a profesores tan profesionales y tener la oportunidad de ver casos de mini-implantes" en University of California, Los Angeles (UCLA)."
"Thank you Dr. Ramon for the excellent organization of the course. A week full of information in the circle of like-minded people, the exchange of experience and new information. An excellent presentation of theoretical material. Special thanks for the practical part on the "super" tipodonts!"
ContacT WITH Dentalgram Formación TEAM